Buy Fresh Te Puna Limes
Te Puna Limes are shipped fresh soon after picking - 5kg boxes are the usual unit size. Harvest season is from late February through to July and the limes are hand-picked twice weekly. Only first grade limes are sent out.
Limes are excellent at keeping the quality of their juice and zest when chilled, and surplus stock left over after orders are filled is stored in our coolroom in 20kg bins. Seasonally we have limes for sale, and fresh lime juice for sale.
For our current wholesale distributors please see below.

"Thanks for producing such a great product, makes our job easier selling high quality products"
- Gus Tissink, General Manager Bid Fresh, Hamilton.
"Hi, Just tasted your lime juice, brilliant, brilliant, been a chef for 40 years, this would be the best lime product I have tasted and used, well done."
- Richard Corcoran, Head Chef, Rutland Arms Inn
www.rutlandarms.co.nz
Buy Fresh Te Puna Lime Juice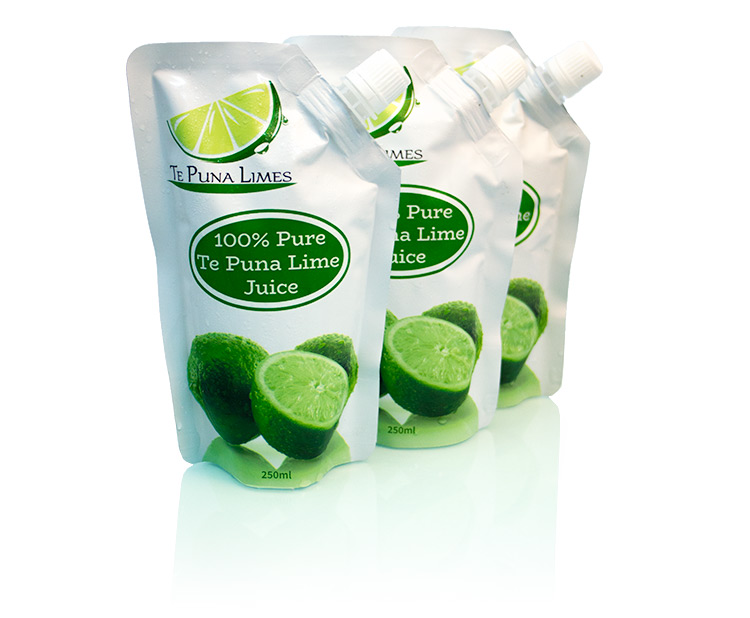 Te Puna Lime Juice is 100% Pure Lime Juice - no additives or preservatives, which gives it full, fresh, and natural flavour. It's especially prized by commercial chefs who use it to add zing to their favourite restaurant menus, and professional bartenders like to keep it on hand to mix their exotic cocktails.
Te Puna Lime Juice is...
- 100% natural juice without preservatives, and should be refrigerated at all times.
- Made from the ripest limes with full flavour.
- Fully filtered in production. The natural juice can settle over time, so should be inverted before use to mix it up.
- Strong and flavourful - be careful if you're used to other lime juices, you may find Te Puna Lime juice is far stronger and more vibrant than you expect!
- Retains its freshness and flavour when refrigerated.
Available in 250ml juice pouches, with easy pouring spout.
Get the fresh taste of Te Puna Limes year round with our new 100% Pure Te Puna Lime Juice pouches. For for fresh lime juice for sale, see our resellers below.
Purchase Enquiry
If you have a query regarding our limes for sale and/or lime juice for sale, please complete the form below or contact John on 02 513 199